Spar 40% i anledning af vores 4 års fødselsdag!
Pearlwax™ Harmanček

Gentle
Effective
Saving time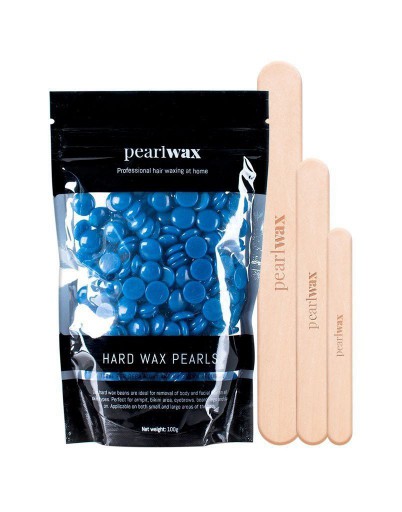 Twoje zamówienie zostanie wysłane w godzin
Secure payments with PayPal
What is Pearlwax ™ and how does it work?
Pearlwax is a form of hard wax that you can use in your own home. Where you need to use strips with many other types of wax, Pearlwax is self-curing. That means you only need three things to get soft and smooth skin: a bead warmer, your wax beads and applicator sticks. You get it all right here with our popular starter kit.
Pearlwax may seem complicated at first, but you quickly learn the method and with a little practice can handle a wax treatment in just 5-10 minutes. However, it is important that your hair is at least 3 mm long for an optimal result. Pearlwax is used as follows:
Turn on your heater, turn up to max, and pour in the wax beads.
Once the beads are melted, turn down to medium and wait for about 5-10 minutes.
When the wax is ready and your skin area is cleansed, apply the wax along the direction of hair growth using the corresponding applicator sticks.
Wait until the wax has solidified on the skin (it takes about 30 seconds), then tear the wax off in one quick jerk towards the direction of hair growth.
Repeat on the entire desired area.
The skin will be a little irritated the first few times right after use, and you can use our soothing aloe vera to your advantage. When the skin has calmed down again, you will find that you have a soft and hairless skin on your treated area, which will also last much longer than when shaving.

If you are a first-time user, we recommend that you read our detailed instructions as well as tips and tricks for using Pearlwax.
What are the benefits of Pearlwax
There are many benefits to using Pearlwax to eliminate unwanted hair growth. You can read our favorite benefits below:
When waxing, you pull your hair out at the roots, which is why after a few times with wax treatment you will find that it takes up to four weeks before the hairs have grown back.
The hair will grow finer over time and there will be fewer of them.
Your legs will feel soft and smooth for a long time.
You can use the gentle wax all over the body and for all skin types.
You minimize the risk of red bumps and ingrown hairs.
It is significantly cheaper to waxing yourself than with the beautician
A small disadvantage that can deter many is that it may well hurt a little the first few times you grow up. However, it passes quickly, and after 2-3 treatments the pain is already much less. In addition, the hairs should be slightly longer, about 5 mm, at the first few wax treatments.
Buy your Pearlwax ™ Start Kit today - and start your good waxing routine right away
It can be cross-border to throw yourself into something new, but we'm pretty sure you'll never regret your choice to replace the scraper with Pearlwax. There are simply too many benefits to waxing. With our starter kit on this page, you get everything you need to start your new waxing routine. What are you waiting for?
Become a part of @pearlwax.eu
Share your best #waxingmoments with us on Instagram
Pearlwax™ is a Registred Trademark - trademark no. 017878732 - 018243256
Copyright © 2017-2023 Pearlwax™